Bed Bug Dog Detection Boston MA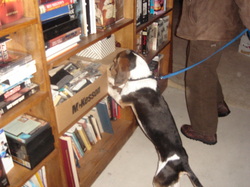 Bingo sniffing out bed bugs
New England Canine Detectives Bed Bug Detection Residential Services

Our bed bug inspection dog Bingo will help you. Most of our callers have one question on their mind. Do I have bed bugs or not?? And then there are those who know they have bed bugs but want to know where they are hiding so the treatment can be more effective. In either case, using a dog is the fastest, least disruptive, and most accurate way to know what you need to know to eradicate the problem. Don't throw everything away or get expensive treatment until you know what you are dealing with.




---
How Scent Detection Works
A bed bug dog is searching for odor. He's not looking for bugs, just the odor that bed bugs give off. We humans cannot detect a single bed bug with our nose; however, just one bug or nymph or a cluster of eggs is enough to get the dog's attention. A dog has to find this odor among many other odors in the average house. There are factors that effect odors, such as: air flow, containment, as in blocking an odor, as we do by putting food in air tight containers, and overriding the odor with a stronger odor. A dog's nose is pretty good at overcoming most, but not all obstacles.
There can be a bed bug odor that the dog has picked up on, and then he needs to work out the source. There is a scent field that holds the odor, and this field can be large or small.
When a dog locates the strongest part of this scent field he will alert his handler.

How To Get The Best Inspection
The dog is searching for odor.
Things that effect odor-
Air flow-Therefore shut off anything that circulates air such as
fans, air-conditioners and please close windows.
Overriding with other odors- Avoid cooking right before or during an inspection. Do vacuum all carpets and floors prior to our visit. Do not use any scented carpet powders or scented cleaning products. Also prior to the inspection, please extinguish all smoking materials and do not use any air fresheners, perfumes, scented candles or plug-ins.

Containment or blocking odors- The number one problem we encounter as we search is clutter. Clutter is a bed bugs best friend. By clutter I mean items that are scattered all over the floor and piled on top of one another. This could be shopping bags, clothes and books or whatever. Please clean up clutter.
Please do open all dresser draws about one inch. If bed bugs are within, it will be easier to detect them.
Whenever possible, please move beds away from walls so that the entire area can be searched.
Bingo at work
Things to consider when a dog is working for you. Make sure that your pets are not present, and this includes birds and small caged animals. Also, please remove your pets beds and toys. Food bowls should be picked up and out of sight. Please keep noise to a minimum- no loud music or television. Do not distract the dog by moving things or talking to him. We are always concerned about Bingo's safety during a search; therefore, make sure the floors are free of any object that he could ingest, especially medicines. Any dog will be distracted by food , so please make sure he does not encounter any on his search.
Call us at 413-537-7584 or e-mail:contactus@nebedbugdetection.com