Bed Bug Dog Detection Service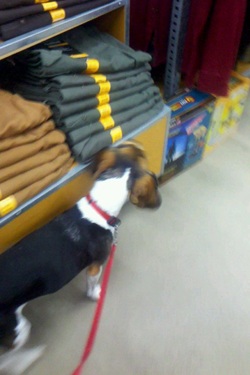 Bingo checking a retail store
No Facility is Immune from this Human Parasite !!
One or two bugs can become a major problem. In the business world, reputation is everything. If the public knows that you are proactive in the fight against bed bugs it can only help your reputation. The hospitality industry has taken the greatest hit from bed bugs. It is impossible to prevent these bugs from getting into your facility; however, a bed bug detection dog can alert you to their presence , thus keeping them from multiplying and spreading to other rooms. Pest control companies are fighting an uphill battle against these bugs. It is very important to know if the treatment that has been used has been effective. If chemicals have been used, then 30 days after treatment a bed bug sniffing dog can re-inspect. If all the bugs are not dead, then the problem starts all over again.
---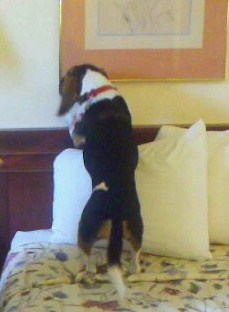 Bingo alerting to bed bugs under the picture on the wall
Apartments,Condominiums, Dorms and Multi-Family Dwellings
What do all these have in common? Shared walls , and wiring and plumbing holes through the walls that make excellent passage for bed bugs. These types of buildings are high risk for bed bugs to spread. Property owners and managers would be wise to have a bed bug detection dog inspection of new tenants before they move in. This would protect all your existing tenants and protect you from lawsuits and withheld rent. Tenants would also be wise to have vacant apartments inspected for bed bugs before they move in.
---
Our Commercial searches have been extensive. We have inspected schools, medical centers, dormitories, camps, motels, office buildings, bed and breakfast establishments, moving trucks, pods, retail stores, condominiums, townhouses, apartment complexes, assisted living facilities,community centers, vans, elderly housing and pre-school facilities. In short, no matter what the job,from one room to 300 we bring the same commitment to quality. Whatever kind of building you have, we can inspect it !
Call us at 413-537-7584 or e-mail: contactus@nebedbugdetection.com